About
Association of CAE Molding Technology
We are a nonprofit organization started in 2004, that aims to educate our audience in the forms of seminars, magazines, and solutions from our qualified partners in this industry. Globally, we have offices in China, Taiwan, and planning to expand to other Southeast Asia countries before 2024. Our mission is to provide the most advanced mold and molding solutions worldwide to help the industry leverage its competitiveness and prepare for Industry 4.0. Every year, we host a large-scale CAE molding solution alliance conference that ranges from 200-1,000 attendees to provide a platform for technology exchange. Aside from conferences, we arrange factory tours and exhibition trips overseas for customers to experience the latest technology regarding the mold and molding industry.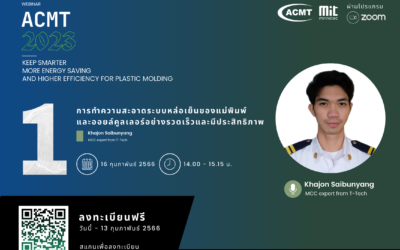 Date: Feb 16, 2023
Time: 2.00PM
Location: Online

Date: Nov 16-19, 2022
Time: 10.00AM-06.00PM
Location: BITEC Bangna
Check out some of our past events and seminars including workshops, exhibitions, summits, and training courses related to Mold and Molding.

ACMT Talk, Highlight, Past Events
Date: Nov 11, 2021
Time: 2.00PM
Location: Online

Date: September 15, 2021
Time: 10.00AM
Location: Online

Date: Nov 11, 2021
Time: 2.00PM
Location: Online
Smart Transformation Begins with Smart Injection Molding
Join us and bring your injection mold and molding manufacturing to the next level with our cutting edge technology and consultation. 
Office
Minnotec Thailand Co.,Ltd.
46/7 Moo 12 BDI Soi Bangplee-Kingkeaw Rd., Bangplee Yai, Bangplee, Samutprekarn Province, Thailand 10540
Email
info.th@minnotec.com
ACMT Thailand
ACMT Global